Irish Watercolors Attract Artist
Special to The Irish American Post
[click on pictures to enlarge]
Irish-American landscape artist Theresa M Quirk does her cultural thing in oil and watercolor, with a strong dose of Irishness mixed in for good coloring and heritage.

She began painting and studying art as a child with her father, Walter D. Quirk, who motivated her to pursue art. "He was very interested in art and dabbled in it from time to time. He was a major influence when I was very young and even signed me up with a home study course with a high school in Westport, Conn.," she said.

Unfortunately, Quirk's father died tragically after a bar fight when she was 13. His daughter recalled that he was probably one of the last remaining urban gang types from Jersey City. His life evolved around cards, loan sharking, managing the numbers, the Irish Lottery and other frowned upon activities of the day, according to Quirk. "But he was a very good father and very proud of his entire family and faithful to the Church," she reiterated.

"I loved him very much and his death seemed senseless. As one of the eldest, I was left to help care for all my younger siblings. Unfortunately, this took a toll on my education as I stayed home during most of my high school years to care for the household and kids," Quirk said.

She has two natural brothers, one of whom is older and one younger, as well as one younger sister and two adopted brothers that her father took in as foster children just before he died in 1969. No one else in this large Irish family, however, has been interested in art.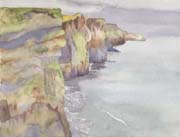 Quirk's grandparents on her dad's side were from the Tipperary area before immigrating to Brooklyn. Her grandmother's parents, the Twomeys, came from the Wexford area and emigrated to Savannah. In honor of her heritage on St. Patrick's Day, Quirk always celebrates at a local pub, eating corned beef and cabbage. "It seems a very American thing to do, rather than an Irish one. But it's a day we can all be proud," she explained.
"I don't enjoy many Irish dishes. I grew up with many of them and tend to avoid them. I remember as a kid having to peel five pounds of potatoes every single night," she recalled.
Most of the Quirk side of the family lived in Connecticut while the artist was growing up, but all originally came from Jersey City or Brooklyn. Quirk was born in 1955 in Stafford Springs, Conn., while her parents were attempting to make a life up there.
"It didn't work out for my father and we moved back to Jersey City after enrolling us in a private school there," Quirk said. But at 16, she left home, yet still finished high school at 18 and entered Jersey City State College. She initially studied art but quickly changed to business, fearing job instability.
Quirk never graduated from college because she said she was simply too busy working. "I had a job in New York City in the travel industry, where my company was a pioneer in implements networks for the airlines during the 1970s. The growth was so fast and aggressive during that time that it was better to stick it out," she offered.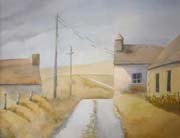 The artist now lives in West Milford, N.J., a lovely heavily-wooded area of state about 50 minutes out of Midtown Manhattan. "It's a very rural area and there is much wildlife, including wild turkeys, coyotes, and numerous backyard bears to contend with. West Milford is in a migration path and there's always interesting hawks and eagles hunting above. While I am painting plein-air, I watch them soar and hunt. We tend to a small tree farm here," she said.
Quirk often attends workshops in New England, New Jersey and in Greenville, N.Y., at the Hudson Valley Art in nearby Durham. The latter town is becoming quite well-known for its Irish festival, she said, adding, "I never had any extensive or formal art training other than these workshops I take."
In addition to doing a few art shows, Quirk is represented by a local gallery in West Milford. "I really don't enjoy that part of the business. Maybe even hate it. I am a 'quiet painter' and would rather use the Internet for publicizing my work," she said.
"I see so many other artists running around with paintings, entering shows and such. I think it's all very strange behavior. Maybe because my background is so digital. I paint because I love it," Quirk said. "It's part of me. I feel I don't need to run around hoping someone will give me some award for something, I only need to satisfy myself. Someday, I will not be here but my art will live and that's enough for me."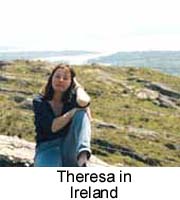 Quirk now has a 20-year-old daughter attending Fordham University in New York City. Five years ago, in her third marriage, Quirk married an Argentinean architect who enjoys the art world but does not paint. His father is a painter in Buenos Aires and he knows many South American artists. She and her husband were married in Iceland, the only other country she finds as amazing as Ireland. "It's probably the closest thing to traveling to the moon," Quirk said.
"After the birth of my daughter, I started a small publishing company that enabled me to work from home so I could care for her better. I enjoyed doing layout and design and a family entertainment newspaper was among my projects," Quirk said.
"I also did prepress and layout of other printed material. At the very beginning of Internet I quickly took advantage of the opportunities I saw online. I was published in the New Jersey Star Ledger as a pioneer during the Internet revolution. When I started web pages there was only Mosaic but Netscape was in the works," she added.
She continues to study on a regular basis with other artists and travels extensively she can explore the landscapes and scenes that have become the subjects of her work. "My Irish scenes are favorites and I find a lot of inspiration in the Irish countryside," she related.
"I have always traveled quite a lot. My daughter's father was from Germany and before him I had a few Swiss boyfriends. So I spent a lot of time in Europe. My time in the travel industry afforded me easy travel opportunities," Quirk related.
"I fell in love with Ireland and still have an ongoing affair with it. I am very drawn to the beautiful landscapes and the moist environment. The weather invites me as part of it's wonder, like becoming one. I think visiting Ireland was a major influence in my art. I really enjoy the entire western coastline and can't say which area I love more as it all appeals to me equally," Quirk said.
For her, Ireland is among one of the best places to paint. She cited the ever-changing weather and endless landscapes that create a very special challenge. The watercolor and the atmosphere seem to go together quite naturally, she indicated.
"I think there's no better medium than watercolor when capturing an Irish scene. Although I haven't been able to paint plein-air, I take hundreds of photos for reference as we cover a lot of ground while we are there. It a very busy time. The rest I hold in my memory," she said.
"Since as an American, I am terrified of driving on the other side of the road, so I go with my husband who drives me around. We have a wonderful time. I am currently attempting to drive by myself so I can spend more time there this year. I need 'quiet time' to soak up the Burren and Connemara and browse the bookstores," she said.
Quirk receives her inspiration by looking at photos or reading Irish stories, "History or, film and music. It amazes me how much talent there is in a country nearly the size of New Jersey," she said. "I enjoy the pubs, the music and the art of storytelling. I appreciate the freedom they give to sheep and cattle, allowing them to really enjoy a wonderful life while they have it," she said.
"How could one not fall in love with a newborn lamb nestled alone in the grass as you stroll the countryside? Or gaze at a rock wall wondering who built it and why. In a Connemara field, a rock that could be a grave or ruins of a stone cottage, filled with only lost memories. There are so many stories to tell but no words to express it all. I think the reason why it's so undeveloped there is the people visual this and 'respect' it as it is. I like that," Quirk continued.
"I've always loved Irish music for as long as I can remember. I am fortunate that there is a local radio station at Fordham University that broadcasts wonderful music and news from Ireland," she went on.
"As a watercolorist, my work is about layers of transparency, illusion, light and a bit of reality moving from reality to abstract to reality," Quirk said. "I work in layer after layer, viewing the actual piece brings you a clear understanding of just how layers of different colors can play with your eye. I employ spontaneous and loose-flowing brushwork, suggesting the freedom only a watercolor can provide," she said.
Quirk recently started painting in oil; however, she continues to enjoy watercolors. For her, it's more spontaneous. I love building up layers and having happy discoveries. I think watercolors allow you to really catch the moment. They are truly from the heart. Oils are too-time-consuming and the point is usually lost. I take a lot of photos everywhere I go but never used it as a medium," said explained.
When not painting, Quirk is working at her publishing firm. "I unwind with my working. I spend a lot of time on the computer and have a network throughout my home and in my studio. I also travel with my husband to Puerto Rico where his company has an office, for brief 'warm ups" during the winter," she said.
"An important point I'd like to make is that I just started painting only three years ago when I became a member and studied at the Ridgewood Art Institute," Quirk related. "Throughout my life, I have always been too busy and pressured to work. After the birth of my daughter, I was divorced and was left to raise her myself. I also had a business for many years to tend and a home to pay off.
"Although I have always loved art and dabbled in it here and there it was only three years ago that my business got to a point that I could "relax" and for the firs time in my life do something I love. My new husband of five years has been very supportive of this and motivates me constantly.
"I now devote most of my time to art and this has been a long time waiting. So, in the last three years I've been catching up to all those lost years," she said.